Look what arrived and in my hands two days ago and I was so excited to open:
These are our documents, luggage tags, ID tags, Itinerary and lots more from Stampin' Up! It's now a reality that Dave and I are leaving soon for the Thailand Incentive trip that I earned last year. An all-expense trip for two of a lifetime. I work for the greatest company!
And now on to some business stuff. I will be hosting a free kit class in my home using the Soft Sayings Card Kit on June 30th. If you are local to me, I am ordering all the kits later on today so make sure you contact me if you want in! Payment for the kits will be expected on class day.

The kit includes all the supplies you need to make 20 cards. So that equals to about $1.25 each. You can't purchase nice cards like these for that price! I made one set of 10 so far so that I could create the other 10 with my group of attendees. The sparkle from the gold glimmer paper is fabulous!
Here are some close-up photos of all ten of the cards and you also receive coordinating envelopes that are included in the kit plus the ink, a clear block and a stamp set:

You can order the kit and the refill if you want to create even more cards or get together with family and friends: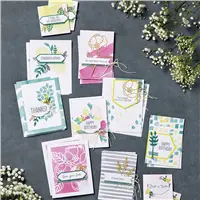 Here's a Stampin' Up! video you can view also:
Shop Stampin Up! Debbie's Store